Gershon, played by Roee Adar, is a sports teacher at the Greenhouse and the Eagles Basket Ball Team's Head coach.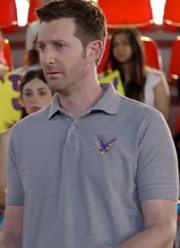 Appearance
Gershon is a portly middle-aged man, with brown hair, peach skin and blue eyes. Gershon is seen most time wearing a standard Eagles coaching uniform, being a grey polo t-shirt, with whistle and black shorts.
Biography
Season 1
Gershon first appeared, at Alfie Reshef's audition for the Eagles, in the Greenhouse Basket Ball court and helped to calm down the argument between Daniel and Alfie, after the latter was bullied and teased by Daniel.
Gershon, is later revealed to be the Eagles coach and is seen at their first on-screen Basket Ball game against a rival school. Later in said game, Gershon accompanies Daniel when collapses, from the shrapnel pain, that he'd gotten stuck in his leg, when he took his morning jog.
Throughout the season, Gershon has only really been seen during any of the Eagles basket ball games, beckoning them on and cheering for them, as well as helping them to train, during training sessions.
Season 2
At the start of the Second season, Gershon is overlooking the Hiking/Team-building challenge, for Louis Klein, the headmaster of the Greenhouse. Gershon soon reports back to Louis, when he sees what Ellali's done to the Raven's camp.
Community content is available under
CC-BY-SA
unless otherwise noted.