Gidi, played by Ron Bitterman, is the security advisor to the Israeli Prime Minister; Sefi Sahal and a recurring character in Seasons 2 and 3 of The Greenhouse.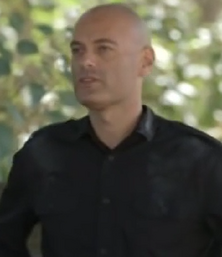 Appearance
Gidi is a young man, with tanned skin, shaved head and blue eyes. He's commonly seen wearing a black shirt and jeans.
History
Season 2
Gidi is introduced as the security advisor to Sefi; the Prime Minister of Israel during the second season of the show. Throughout this season he works to help fight against a deadly virus that would be spread at an upcoming peace conference by The Client.
Season 3
During Season 3 of The Greenhouse, he makes an unsuccessful attempt to try and catch Omar, after the Spie had made an exchange deal with Raffik; trading Omar for the Icarus bomb.
Later after Robbie returned to the Greenhouse; Gidi's soldiers supervised the school. After Ze'ev was released from prison, he helped Spie to eliminate Ze'ev, but was duped by Ze'ev as he got Gidi to make it look like he'd been killed.
Community content is available under
CC-BY-SA
unless otherwise noted.