Greenhouse Academy is a school for future leaders located in Southern California and the main overall setting for Greenhouse Academy.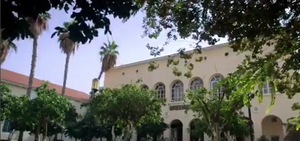 Features
The Greenhouse Academy is a large school for future leaders, run by Louis Osmond in Southern California. The overall complex features three different blocks that contain a plethora of rooms and areas within the school.
Central Block
The Central Block is the overall main block within the Greenhouse complex, featuring a variety of classrooms, as well as important areas such as the Greenhouse Academy cafeteria and Louis' office.
Gym Block
The Gym block is the main block where most of the sporting events are held within the Greenhouse Academy, featuring areas such as a basketball court for The Eagles where their Home basketball games are held.
Dormitory Block
The Dormitory Block is located next to the central block and is the block that contains the dormitories for both The Eagles and The Ravens, where they live together as teams throughout the duration of the school year.
Outdoor Areas
The Greenhouse Academy features a variety of different outdoor areas, where a variety of different leadership-based classes and tasks are held. There's also areas such as the courtyard featuring a fountain and ceremonial area, where various special events are held.
Community content is available under
CC-BY-SA
unless otherwise noted.