Guri Reshef, played by Danny Geva, is the father of Ellali and Alfie Reshef, husband to Naomi Reshef and a police officer for the Israeli Police Force.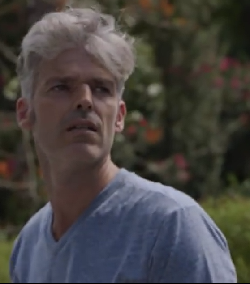 Appearance
Guri is a middle-aged man, with grey curly hair, brown eyes, peach skin and a lot of stubble. Guri is mainly seen wearing a grey t-shirt and blue denim jeans.
Biography
Season 1
Guri is first seen at the start of the season, watching the launch of the Israeli space shuttle, with his friends and family, on the couch, due to Naomi being the astronaut going up. When the shuttle mysteriously explodes, Guri is sad and runs outside with his two kids, looking up at the sky in sadness.
Guri is later revealed to be an officer of the Israeli police force, when Daniel Goren, is caught up in a shrapnel scandal, where he tries to investigate how the shrapnel ended up on the beach. Throughout the season, Guri begins to suspect there's a traitor within the Police force.
Later in the season, when it turns out he's correct, with the traitor turning out to be Arik; Guri and Naomi's old friend. Guri desperately tries to find evidence of Arik's betrayal of the police force. When Guri tries to pitch his evidence to the chief of police however, Arik is able to manipulatively convince the chief that Guri needs some rest and time off from the force. Guri, however is too persistent and keeps trying to come up with evidence, eventually he's suspended from the force after these accusations.
Towards the end of the season, when he finds out about Ze'ev's plan to take over the Greenhouse, he tries to infiltrate the Greenhouse, which has currently been taken over by Ze'ev and his colleagues. Guri is soon able to confront Arik, who's assisting Ze'ev in the takeover of the school and manages to knock him out, tying him up to a chair and leaving him for the police, after the school is saved.
Season 2
Guri returns in Season 2, having been re-commissioned into the police force. He helps conduct interviews with the students of the Greenhouse, when trouble occurs towards the start of the season.
Relationships
Guri and Naomi
See Main article:Guri and Naomi
Guri and Arik
See Main article:Guri and Arik
Guri and Ellali and Alfie
See Main article:Guri and Ellali and Alfie