Iftach and Natalie, is one of the main relationships in The Greenhouse, from Season 2 onwards, in The Greenhouse.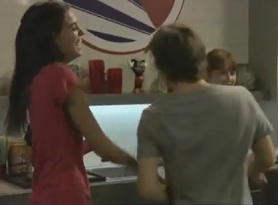 Relationship
Season 1
In the first season of the show, it's shown that the two don't tend interact much with one another, due to being on rival teams; being the Ravens and Eagles, respectively. The little interaction they do have however is usually as rivals, and as wind-ups, considering Natalie was Daniel's girlfriend.
Later on in Season 1, the two work together as part of Team Galapagos and are instrumental in stopping Ze'ev's plans. During this time it's shown that the two can work together.
Season 2
After Natalie is transferred to The Ravens, once Ellalie switches to the Eagles, it's shown that Iftach is the first of the Ravens to welcome her to the team. During her time in The Ravens, Natalie grows closer to Iftach as friends.
Season 3
In the third season of the show, Sophie tries to get close to Iftach, after losing Ron to Amy. As an effect of this it's shown that Natalie is pretty upset, as their relationship is strained.
Community content is available under
CC-BY-SA
unless otherwise noted.