Jackie Sanders, played by Jessica Amlee, is one of the main characters and a member of The Ravens in Greenhouse Academy.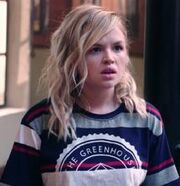 Appearance
Jackie Sanders is an American teenage girl with pale skin and blond, mid- length, wavy hair. She has brown, hooded eyes and plump lips. She has a dotting of freckles on her face, and wears natural makeup and nothing dramatic.
Throughout the show, she is seen to be wearing grunge outfits which possibly reflects her past. As with all the Ravens, she wear red, blue, white branded clothing most of the time.
Personality
Jackie is viewed by most (including Jason) as a criminal or trouble. She can also be seen as rude, sarcastic, and prefers to be alone. She has a very quick wit, and a sense of humor. She is also very secretive, but as she spends more and more time at the Greenhouse, she opens up a bit more and makes some friends with her fellow Ravens. Living on the coast of California, she knows how to surf.
History
Season 1
Jackie is first introduced as a bank robbing juvenile delinquent, who is given another chance by being accepted into the Greenhouse. She walked into the exam room in handcuffs and is placed next to Max Miller. She takes advantage of Max by using a paperclip from his bag to break out of the handcuffs and stop the rock music being played by Leo Cruz. Later she retakes the exam out of handcuffs at the same time Hayley Woods did.
Jackie enjoys playing video games and has her first conversation with Max Miller about her hand possibly numbing and that he sleeps on a wheat pillow, proceeding to mock him. She later takes part in the opening challenge digging in the sand on the beach with everyone else. After the challenge she heads to the party and discovers her sketchbook has been ruined by a glass of punch being spilt on her bag.
Relationships
Gallery
Appearances
Notes
Jackie is the Greenhouse Academy counterpart of Dina Navon.
Community content is available under
CC-BY-SA
unless otherwise noted.