The Louis is a communicational device, that is used by the students of the Greenhouse in order to keep in contact with each other.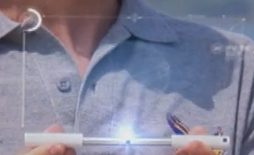 Description
The Louis is a long white plastic stick, featuring a slider that activates a holographic touch pad and screen to appear once it had ben slid. The Louis is typically used for texting and calls, with students usually placing it in their ear when they talk to people via the device. The device can also be used to view Sophie's daily blog, where she produces posts about the daily going-on's in and around The Greenhouse.
Features
Built-in projector
Holographic keyboard
Software utilized for school, studying and grades
Captain's Louis
The Captain's Louis, is a special type of Louie that is specifically given to the captain's of the Greenhouse teams. These Louis feature the basic functions, as well as the ability to be able to lock and close the door to that captain's particular dormitory.
Notes
The device is named after the headmaster of The Greenhouse; Louis Osmond.
Community content is available under
CC-BY-SA
unless otherwise noted.