Louis Klein, played by Raffi Tavor is the headmaster at the Greenhouse and a major recurring character in The Greenhouse.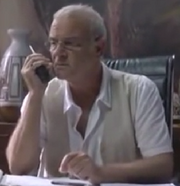 Appearance
Louis's an elderly man, with short grey hair, blue eyes and tan coloured skin. He's usually seen wearing a working White shirt, with baggy cream-coloured trousers, throughout the shows duration, however he has changed it up every so often.
Biography
Season 1
Louis first appears as the headmaster of the Greenhouse, at Alfie Reshef's audition for a place in the Eagles. He suggests that Alfie go against Daniel Goren in a game of Basket Ball in order to prove he's worthy of being an Eagle. Later Louis gives, former juvenile delinquent Dina, another chance by offering her a space in the Ravens at the Greenhouse, in exchange for a sentence.
When Alfie doesn't prove himself to be good enough and Ellali stands up for her brother, slamming Louis and the way things are run at the school, Louis eventually accepts Alfie into the school, as well as offering Ellali a place at the school too.
Later Louis is present at the welcoming ceremony at the Greenhouse, welcoming the new students to the school, including Ellali and Alfie. Later it's revealed that Natalie is Louis's daughter, when she meet's him, as well as Robbie being his son. Louis later on, introduces the two teams to the challenge of selling enough dohnuts for Hanukah, offering the winner a choice of which theme to pick for the party.
Half-way through the season, thanks to his seductive son, Robbie, Louis takes a break from being the headmaster and goes on vacation, allowing Robbie to take over as headmaster of the school, as part of a master plan, brought to life by Ze'ev.
Season 2
Louis returns in Season 2 as the headmaster of the Greenhouse, where he sets up a Hiking/Team-building exercise for the two teams; the Ravens and the Eagles. Later after the challenge, he interviews the different students, after trouble strike, with the help of Ellali and Alfie's dad, Guri Reshef.
Relationships
Louis and Natalie
See Main article:Louis and Natalie
Louis and Robbie
See Main article:Louis and Robbie
Louis and Judy
See Main article:Louis and Judy
Louis and Sophie
Throughout the show's duration, Louis seems to highly respect Sophie for her dedication to the school and as the first female team captain in the history of the Greenhouse. It's shown throughout the series, that Louis may care as much for Sophie as he does Natalie, when he visits her in the hospital and mysteriously allows for her team to win the Dohnut Hanukah challenge through other means of selling the dohnuts.
Community content is available under
CC-BY-SA
unless otherwise noted.