Project Nexus is the codename given to the plot that was devised and carried out by Ze'ev and his team during Season 1 of The Greenhouse.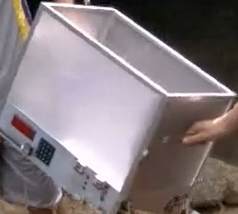 Overview
Project Nexus is a mission that was assigned to Ze'ev and his group of colleagues. The mission involved making use of a satellite, which would help to send a signal to a bomb that could cause the collapse of several small islands located in Israel. The mission was first deployed when Naomi's shuttle was destroyed.
The shuttle was destroyed as a precaution, in order to make sure that Naomi couldn't alert anybody about their plot. Two years later a number of Ze'ev's colleagues took up high positions as members of the Tela-Aviv police force and The Greenhouse Faculty, with Arik being a police officer, Ze'ev utilizing his position as main right-hand man to Mordi; the prime minister of Israel and Robbie and Marcu taking up positions at The Greenhouse, as vice principal and electrician, respectively. Early on in the season, they blackmailed Alona into helping them disable a shuttle, during her visit to the Israeli Space Agency.
Throughout the course of the first season, the team behind this project were the masterminds of many hijinks and mysterious circumstances that took place at the Greenhouse, such as Natalie's hypnotising and Robbie taking over as the temporary headmaster, while Louis was off on vacation. Arik also got into conflict with his former partner Guri, who he'd been friends with for years. Arik used Guri's trust in him to backstab him and eventually managed to get Guri suspended, further plotting the lines for Project Nexus.
The team behind the project, mainly worked from The Hole; a secret hideout hidden within The Greenhouse Grounds. Here they were able to monitor what was going on and keep progressing the project. During the Memorial day Speech by Mordi, Ze'ev hired a gunman to try and gun down the prime minister, using this as a way of putting Robbie in a good light with the prime minister, who declares him a hero after saving him.
Eventually the plot is unravelled, as Team Galapagos; a group consisting of most of the main cast. When push comes to shove, Ze'ev makes a big ploy to start the plot, taking the Greenhouse and it's students and staff hostage and getting Marcus to start the bomb, having to try and force Ellali and Naomi to activate it instead. However after several members of his group are either gunned down or caught, Ze'ev makes a hasty retreat, but not before activating the bomb, luckily however Iftach and Daniel are able to get rid of it; chucking it in Naomi's former stasis pod.
Members
Community content is available under
CC-BY-SA
unless otherwise noted.