Sefi Sahal, is a recurring character and Mordi's replacement as the Prime Minister of Israel from Season 2 onwards.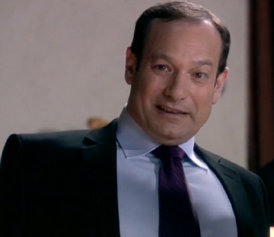 Appearance
Sefi is a middle-aged man with thick dark brown hair, pale skin and brown eyes. He can usually be seen wearing a white shirt and tie or a black suit and tie, with black trousers.
History
Prior to The Greenhouse
Before the beginning of the show, Sefi was a student at The Greenhouse , where he was a drop-out, having only lasted 2 months. This is due to the fact he cheated on tests and also didn't get on with Louis ; the headmaster at The Greenhouse.
Season 2
Sefi is introduced as the new prime minister of Israel during a flash back in the first episode of Season 2, where he greets Louis and Naomi at the award ceremony thanking the Greenhouse students for saving the world. It's revealed here that Sefi gave the minister of education a lot of trouble. It's also revealed that Louis doesn't have a high opinion of Sefi.
When Sefi, hands the mic over to Louis to say a few words at the ceremony, Louis takes a jab at Sefi, which causes Sefi a great deal of shame. After this Sefi forces Louis to make his students sit progress exams. After the students managed to get low scores, Louis is pushed into forcing the two teams on a hiking challenge, which is revealed to all a part of Sefi's plan to close the Greenhouse.
After the events that occur during and an police investigation as to what happened, with Louis forcing the kids out on a hiking challenge, with no proper supervision, ending in students getting injured and becoming dehydrated, Louis is thrust into the centre of attention after all these circumstances are pinned on his judgement. When Sophie confesses about what Louis did to Guri during the investigation, Louis faces risk of being fired as the head of the Greenhouse. To further discredit Louis, Sefi gets in contact with Miki Sevan and gets her to report on the story.
After this Louis agrees to Sefi's terms and resigns as the headmaster of The Greenhouse, which further plays into Sefi's plans of shutting down the Greenhouse.
Community content is available under
CC-BY-SA
unless otherwise noted.