Tall Tyler, played by Tamir Ginzburg is a minor character and a failed applicant for the Eagles in Season 1 of Greenhouse Academy.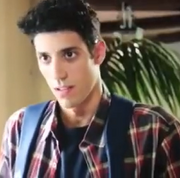 Appearance
Tyler is a tall young man, with pale skin, brown eyes, and short jet-black hair. He's commonly seen wearing a cream, magenta, and grey colored chequered shirt with a pair of black shorts.
History
Season 1
Tyler makes his first appearance in the first episode of Season 1 of Greenhouse Academy, where he is seen talking to Daniel and Parker, who are eager for him to join the Eagles. Daniel and Parker assure Tyler that they had given him the answers to the written exam and that he'd as such be able to pass the test. Tyler then heads off to his exam, initially walking in the wrong way, before being corrected by Parker.
Later during the written exam, Tyler manages to finish early, but does not manage to score a high enough score to pass the test, a fact to which Parker reports to Daniel later on in the episode.
Notes
Tyler is most likely the Academy counterpart to Matt from the original series.
Tyler is played by Tamir Ginzburg, who originally played the role of Ron Ashkenazi, in the original series.
Community content is available under
CC-BY-SA
unless otherwise noted.