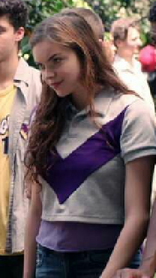 "
Sophie, tell them to clean up the locker room. It stinks.
"
Tammy Canfield, played by Stephanie Troyak is a recurring character and a member of The Eagles in Greenhouse Academy.
Appearance
Tammy is a teenaged American girl with peach skin, browny-ginger hair and brown eyes. She's typically seen wearing a grey and purple Eagles polo-shirt, featuring a dark purple tick, alongside the Eagles insignia.
History
Season 1
Tammy is first seen in Pilot attending the Greenhouse opening ceremony. Later in the season Tammy is seen as an anchor to Sophie when she was the captain, reporting to her about the boys laziness and aiding her team in challenges, such as the help she offered during the Cup-cakes sale in Guilt Free Cupcakes.
In L.D.R she is seen taking part in a dance with another student as a part of the Halloween party festivities.
Season 2
Tammy is next seen in Meant to Be, falling over beside a table in the duration of the earthquake in the Eagles dormitory. In Surfing Lessons Tammy is among the Eagles who Parker gets to ostracize Sophie.